Halloween: The Really Hardcore Girls
Wear Lingerie And Animal Ears
It's true, Mean Girls is my second favorite movie of all time.  Right after Joe Dirt.

And in Mean Girls, the character Cady, played by Lindsay Lohan, puts it best,
"In Girl World, Halloween is the one night a year when a girl can dress like a total slut, and no other girls can say anything about it. 

The hardcore girls just wear lingerie and some form of animal ears."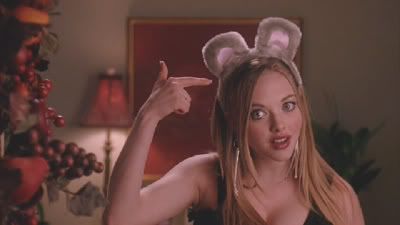 "What are you supposed to be?"
"I'm a MOUSE!  DUH!"
So we've got less than a month if you want to get into that skin tight Halloween costume.

It's not very much time.
That's a good thing. 

Anyone can keep a diet and workout program ultra-tight for a few weeks. 

Any longer than that might actually take discipline. 

A few weeks we can do just on sheer force of not wanting to look bad. 

No one wants to be the girl dressed as a pumpkin.
So rocking your workouts and nutrition ultra-tight for a few weeks you could drop as much as 4-8 pounds of fat.
That should increase your choices of Halloween costumes drastically.
Here Is The "Lingerie and Mouse Ears" Workout Plan:
Step One: Find a really awesome Halloween Party to go to. 

If none of your friends are throwing parties that would inspire you to work out, then find a club downtown.

Step Two: Find a Halloween costume that's a little bit more rockstar than what you would normally wear.

Step Three: For the next few weeks, really kick ass on your workouts. 


A really kick ass workout should be a circuit of big movements like kettlebell swings squats, pushups, and dumbbell bent over rows.  


Step Four: Really kick ass on your diet.

Step Five: Show off at the Halloween Party.  You get bonus points for compliments from your friends or dirty looks from random girls.
Ok, I Know It Sounds Too Simple
It is simple.  Lets get real.  Most of you don't need more workout information.  What you need is a strong deadline and some accountability.
 You need a reason to make it happen NOW.
Your Deadline: Halloween Party
Your Accountability: Your Halloween Costume
So there you go.  Schedule your workouts.  Find your food log.  Call a workout buddy.  Make it happen.
By Josh Hillis
author of: The Stubborn Seven Pounds
Josh is a Fat Loss Expert, a Kettlebell Instructor (RKC Level 2) and Personal Trainer in Denver, Colorado.  Josh helps women and men lose stubborn fat.
Josh Hillis has been featured in USA Today and The Denver Post