Best and Worst Beach Bodies: Audrina Partridge
When InTouch Magazine does their "Best and Worst Beach Bodies" article, it's always fun for me to check it out and see who I should write about.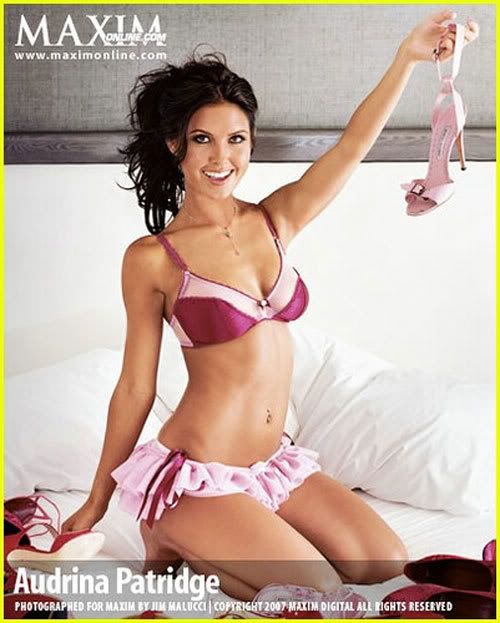 Audrina Partridge Credits Sit-Ups for Losing Fat
This episode features Audrina Partridge saying that the secret to her abs is doing 100 sit-ups per day. 
This, of course, is typically the kind of thing that celebrities say when they don't have any idea how they got the body they have.
Or it could be the one line that the writer pulled out of a 15 minute interview.  She could have talked about all kinds of things.  The writer (who isn't a fitness expert) might have just wanted a quote that would fit the picture. 
And then everyone goes out and does 100 sit-ups and wonders why they don't have Audrina's body.
Given that she has the same personal trainer as Lauren Conrad, it's safe to say that she did the same kinds of workouts, including squats and lunges and all the other big movements that actually build sexy lean bodies in the real world.

Audrina and Lauren

Lauren Conrad's Diet Didn't Work For Audrina
More interesting is that their trainer put them both on the exact same diet, and while it worked wonders for Lauren, it didn't work at all for Audrina.  In fact, it Audrina said it made her "...really bitchy and light-headed. Lauren did really good with it, but it made me really sick."
The take away is that different people need different things, food wise.
You shouldn't be on any diet that makes you angry with the people around you.
Some people feel much more full and satisfied with lots of good carbs (fruits, veggies, brown rice), some people feel more full and satisfied with more protein (fish, chicken, beef, bison), and some people feel more full with lots of good fat (fish oil, flax seed oil, avacado).
Everyone needs different ratios to feel good.  It's individual.
If you don't feel good, you can't maintain it.
You've got to keep a food log to see which meals make you feel full, happy, and satisfied.
Take note: Was it more protein?  More carbs?  More fat?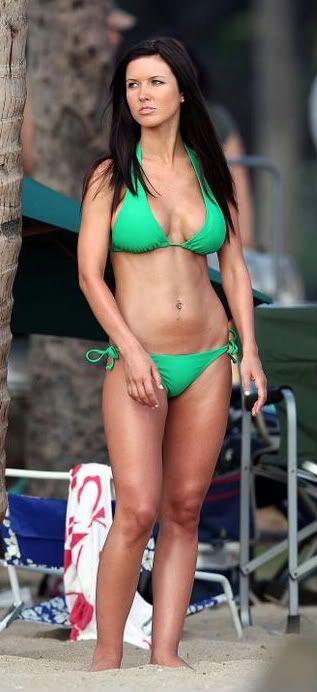 Audrina on the set of the upcoming Into the Blue 2
I Eat Hamburgers and Ice Cream: Everything is Relative
Audrina told TV Guild that she eats hamburgers and ice cream.
One look at her body and you can tell that hamburgers aren't the main staple of her diet.
This is the same thing that happens when a celebrity says that they aren't on a diet.
When Audrina Partridge says she eats hamburgers and ice cream, she doesn't mean that she has eats that all the time.
She means that she eats it at all.  That she hasn't permanently removed it from her diet.
She may have a free day once a week.  Relative to other Hollywood girls, that may seem wild and crazy.
Josh News: I'm in a music video! 
Okay, so you already know if you've been following me me on twitter.  But here is the full story.
I'm a huge fan of The Flobots from way back.  My friend Anthony used to be Brer Rabbit's personal trainer, and we'd get free tickets to see them at Denver local venues like Herman's Hidaway and The Bluebird.
Since then they've blown up to #3 on Billboard's moden rock chart, been on Carson's show, Leno's show, got and got a record deal from Universal.
Filming their second video, Rise, they came back to Denver and opened it up for all of their old fans to be in the audience.  It was awesome.
While they're performing, you'll be able to see me in the middle in the second row.  And when they show the different organizations, I'm with The Department of Peace, in the back in the middle.
And I was stoked Brer Rabbit remembered me =) 
**************
By Josh Hillis
Author of How To Lose The Stubborn Seven Pounds
Josh is currently finishing up his second book Fighter Workouts for Fat Loss
Josh is a fat loss expert, a kettlebell instructor and a 24 Hour Fitness Master Trainer in Denver, Colorado.  Josh helps women and men lose stubborn fat.
"When we say Hillis, we mean awesome.  When we say awesome, we mean Hillis." Dave Whitley, Senior Instructor - Russian Kettlebell Challenge Instructor.
© Joshua Hillis 2008