How Did Lauren Conrad Really Eat? (to be on the cover of SHAPE Magazine)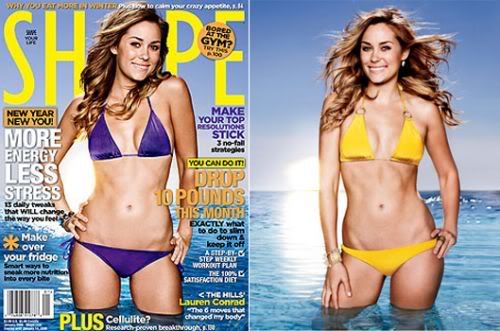 Often people wonder, what does it really take to get that lean?
Or people think that it's just genetics or photoshop. That celebrities have some super secret trick that mere mortals can't possibly replicate.
While a lot of them have unbelievable genetics, a lot of them really have to work for it. I get the feeling that Lauren Conrad really has to work for it.
While I'm sure there is airbrushing and photoshopping going on, the reality is that these girls are actually in wicked shape before that.
There are too many paparazzi pictures in all of the magazines showing what they really look like. The paparazzi pictures look pretty much the same. Lauren is actually that lean in real life.
What Lauren Conrad Really Did To Get In Shape for the SHAPE Magazine Cover
1.) She avoided all processed carbs, like bread and pasta, for three months.
2.) She ate lots of whole food unprocessed carbs, like fruits and vegetables... For three months.
3.) She ate lean proteins, like chicken and fish, at every meal... For three months.
4.) She ate small meals spaced evenly throughout the day... For three months.
5.) She worked out five days per week: Lifted weights (think squats, lunges, pushups, and rows) twice per week, and ran three times per week... for three months.
6.) She ate one "cheat meal" per week - a spoonful of cookie dough.
What Would Happen If You Did That?
With that kind of food, ANYONE would get in amazing shape.
If you ate like that, it wouldn't matter your genetics, your thyroid, your parents, your metabolism, what point you are starting from, what happened last week - none of that would matter.
Anyone who ate like that would get amazing results.
But who eats like that?
Why Lauren Eats Better Than You Do
The truth is, if you were going to be on the cover of a magazine in your bikini, you'd probably lock up your diet also.
Most people never have that kind of accountability.
It's her job to look hot. If Lauren Conrad doesn't look like that, she gets replaced by someone who does.
I've had a million clients who "couldn't get their workout and diet together" until six weeks before their "big event". Doesn't matter what the event is - could be spring break, a wedding, a 10 year high school reunion, whatever. The point is, when the pressure is on, people find a way to make it work.
All of a sudden, six weeks out, people start eating perfectly.
When the pressure is on, the out of control free meals aren't worth it anymore.
When there is the accountability of having to wear a bikini, or board shorts or swimsuit in public - that's when things turn around. That's when people start to eat like rock stars.
Summer is The Accountability Right Now
You don't want to be the girl wearing the one piece bathing suit because you're ashamed to wear a bikini. Everyone is looking at the girls in the bikinis.
You don't want to be the only guy with his shirt on, when the rest of the guys have their shirts off. Seriously, don't be that guy.
You might not be able to get a Lauren Conrad body by the time summer is over. I don't know what place you are starting from. But you can definitely lose 1-2lbs of fat, every single week, for the rest of the summer.
If you followed how Lauren ate, and lost 1-2lbs of fat, every single week, all summer long, it could change your life. This could be the summer where, every single week, you feel better about your body than you did the week before.
It doesn't matter where you are now. You could be 3lbs from your goal, or you could be 50lbs from your goal. Every single week you can get a little better.
And just being on the path to your goal totally transforms you. By doing the work and getting results, you get to live into that future.
When you are getting stronger, getting fitter, and getting leaner, you just feel awesome. You walk differently. You look at yourself differently. And because you're getting results, your clothes fit better =)
If I'm driving West, eventually I'm going to hit California. I don't need to be in California right this second, but I know I'm going to get there. In fact, I can look at how fast I'm driving, and accurately predict how long it's going to take to get there.
It's the same with your fitness goals. If you are losing 1-2lbs of fat per week, it's only a matter of time before you hit your goal. Just keep on driving.

**************
Josh News: Fighter Workouts for Fat Loss
I know, I know. I promised it would come out months ago. Soon very soon.
These things always take way longer than I thought they would.
Right now I'm putting together all of the testimonials and after pictures. It's really, really cool.
In fact, collecting all of the after pictures and writing up everyone's story is my favorite part of my job. I get totally pumped.
It's totally inspiring, and when it's all done I can't wait to share it with you guys.

It's funny, I have a friend who does a lot of fitness marketing who told me "Wow, the after pictures for The Stubborn Seven Pounds are amazing!" I'm thinking, "Just wait 'til you see the new ones for Fighter Workouts for Fat Loss!"

But I didn't realize until he said that, that most of the e-books being sold online don't have any after pictures. It kind of shocked me. Do these people have clients who get results?

The only reason I wrote a book is because my clients get results. In fact, I have three more books that I'm going to write just because of specific situations that came up with my clients.

That's another super fun part of my job, getting creative with fat loss workout programming when "life happens". It's cool getting clients results in less than perfect circumstances. And it keeps my job interesting and challenging.

**************
By Josh Hillis
Author of How To Lose The Stubborn Seven Pounds
Josh is currently finishing up his second book Fighter Workouts for Fat Loss
Josh is a fat loss expert, a level 2 kettlebell instructor and 24 Hour Fitness Master Trainer in Denver, Colorado. Josh helps women and men lose stubborn fat.
"I got more results working with Josh for six weeks than I did in the previous two years" -Stephanie Weis
© Joshua Hillis 2008