Katherine Heigl and Kettlebell Workouts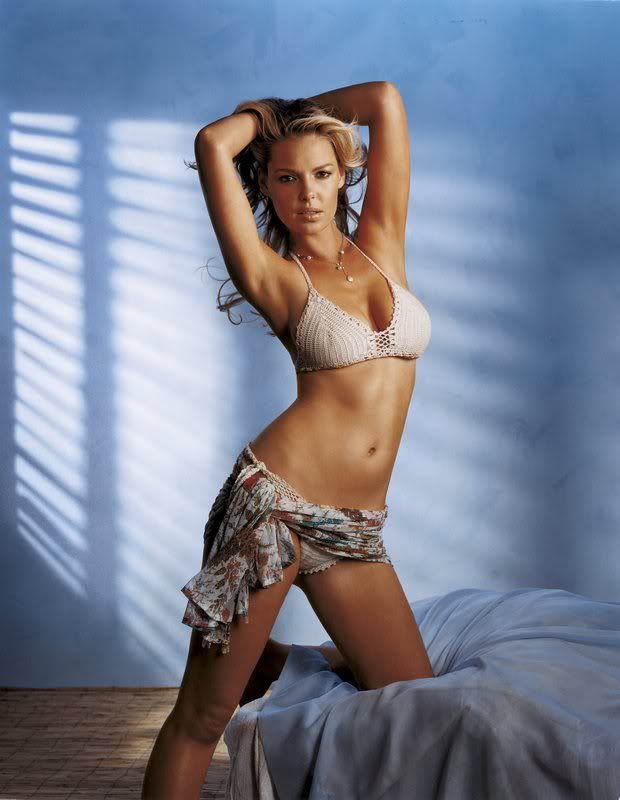 Katherine Heigl now does her workouts with kettlebells.   Some other celebrities that use kettlebells include Jennifer Lopez, Penelope Cruz, Kim Cattrall, Kim Basinger. 
Yes it's true, kettlebells have been stolen from the Russian Special Forces, and are now being used to make hot women even hotter.

Mathew McConaughey works out with kettlebells, and the dude is solid muscle. 
He's proof that kettlebells aren't only for girls.
Have Fun Working Out Again
Katherine Heigl said: "I was probably in the best shape of my life for Knocked Up but I hated going to the gym...   I've now found a woman who teaches kettlebell classes. It's a mix of cardio and weight training but I only do it for 20 minutes twice a week and it's changed my body shape."
Many of my clients are amazed at how powerfully you can get results with kettlebell training, in a very small amount of workout time. 
The workouts don't look like much, but when you do them, it almost feels like too much.  The stimulus is very, very powerful.
Also, kettlebell training is fun.  And if it's fun, you'll do it more often and you'll bring a different intensity to it.
Katherine Heigl takes her kettlebell classes at the beach.  With summertime coming, it's great to be able to take a kettlebell to the beach or the park, and do a full body workout outside. 
If You Need To Take Your Clothes Off, Train With Kettlebells
UK's Red Magazine Asked Katherine about the last time she worked out: "Three days ago, I did kettlebells - I think everyone should do them. They are a great Russian secret. Normally, on Grey's, I'm in scrubs, so I don't have to worry about working out, because they hide everything. That leads you into some kind of false laziness, so then, when I have scenes where I have to take my clothes off, I'm like, 'Oh crap, I've got to get in shape!"'
I have all of my clients start off with the kettlebell swing.  We do the kettlebell swing with anything we can get are hands on - ideally kettlebells, but gripper plates or dumbbells work just fine.

Here is the "swing tools" video again, in case you missed it the first time.
I would go so far as to say that the kettlebell swing is the most powerful fat loss movement there is.
Once you get a good feel for the swing, you can move on to cleans and snatches and all kinds of fun stuff.  Eventually even kettlebell juggling.

Try doing that with your BowFlex.
All of the different kettlebell moves - swings, snatches, all of the different juggling moves - the swing is the foundation of them all.  The more advanced moves aren't more effective than swings.  The advanced moves are just more fun.  And fun makes a big difference.
Katherine Heigl said that she was in the best shape of her life before Knocked Up and she hated going to the gym.  Now, with kettlebells, she's in even better shape, and she loves working out with them.
By Josh Hillis
Author of How To Lose The Stubborn Seven Pounds and currently finishing up his second book Fighter Workouts for Fat Loss.
Josh is a fat loss expert, a kettlebell instructor and personal trainer in Denver, Colorado.  Josh helps women and men lose stubborn fat.
Besides being a level 2 certified kettlebell instructor (RKC2), Josh was an assistant coach at the RKC Instructor Certification in October.
"When we say Hillis...we mean awesome.  And when we say awesome...we mean Hillis!!!" - David Whitley, Senior RKC
For information about kettlebell classes in Denver, click here:
www.denver-kettlebell-bootcamp.com
© Joshua Hillis 2008