Jessica Biel Workout: Get the beach body
For some reason the papparazzi likes taking pictures of Jessica Biel at the beach.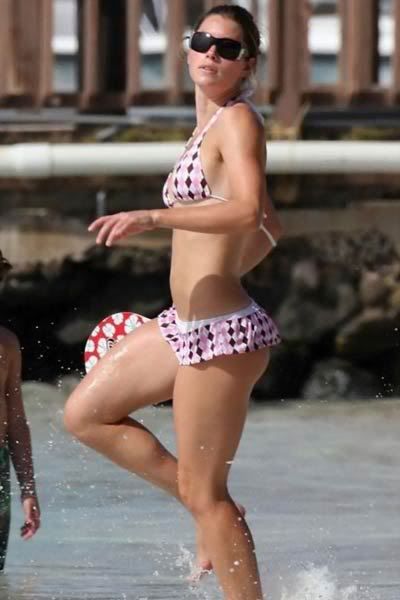 Maybe it's because she's famous.  Maybe it's those great action shots of her playing some sort of paddle ball in the surf. Or maybe it's because she's in really awesome shape and she looks unbelievably awesome in a bikini.
Jessica has had a couple big name celebrity trainers, and here is what the workouts she has done with both trainers had in common:
1.) Jessica did circuit training workouts.
2.) They focused mostly on big movements: Pushing, pulling, squatting, and deadlifting.
3.) They used some sort of explosive finisher: Jason Walsh likes having Jessica do stair jumps.  (I love stair jumps also, and I'd also add kettlebell swings)
4.) They had Jessica doing interval training cardio and sprints.
It all boils down to one thing: Intensity.
The more intense workout will always burn the most fat.
We've entered a new era.  In the past there were celebrities who did relatively low intensity workouts, and made up for it with long hours in the gym and  unbelievably perfect diets.  Now we're in a new world of powerful, smart, time efficient workouts. 
Everything I do with my clients is about smarter workouts and more intensity for faster and better results.  The trainers that are getting their clients better results are all doing the same four things that Jessica Biel's trainer's did, and the girls and guys that are leaning out fast are all doing the same four things that Jessica is doing.
Your workouts should be short, hard, and full body.  If you're spending two hours in the gym, ask yourself why.  If it's for fun - cool.  If it's because your workout is low intensity and it takes two hours to feel like you did something, you need to kick it up a notch.  What if you needed to be in and out in 45 minutes?  What changes would you make to your workout to get everything important in?  What low intensity fluff would you cut out?
You can also check out my other article: Jessica Biel's Workout Week
By Josh Hillis
Author of How To Lose The Stubborn Seven Pounds: Take Your Body from Good to Rockstar.
National Academy of Sports Medicine Certified Personal Trainer (NASM-CPT) and Performance Enhancement Specialist (NASM-PES),
Level 2 Russian Kettlebell Challenge Certified Instructor (RKC2)
© Joshua Hillis 2007