Jessica Alba got her body through smart workouts, not genetics
Of her last eight films, Jessica Alba has been nearly naked in seven of them.  Makes you wonder - What  kind of workout and diet would you do if you had to go to work in a bikini every day, while millions of people watched? 
Jessica is 5ft 6in, 34-25-34, and weighs around 125lb, depending upon her training schedule.  Now I don't know her exact bodyfat percentage, but from the calculations I can do, and knowing clients, friends, and other trainers who have a body like hers - I'd put it right at about 17-18%. 
I think Jessica looks awesome at that bodyfat percentage.  I never recommend for women to go any leaner than that because I think down around 15% women start looking like boys.  Girls should have girl parts.  In fact I think most girls look awesome at about 21%, and some girls even look better at 22-23% than they do at 17%.  It all depends on the woman and her body.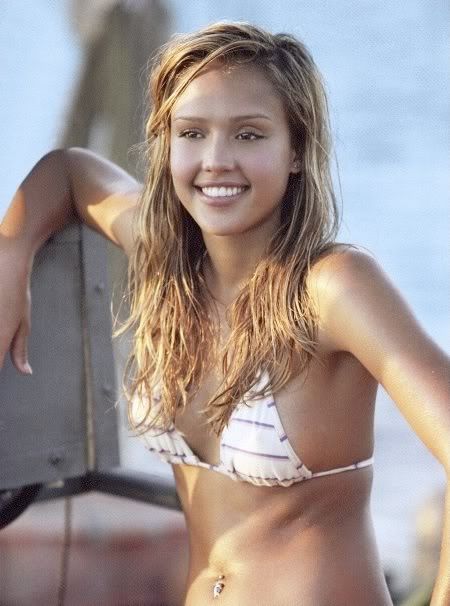 Jessica Alba has talked about how most of her family is overweight, and how she started cooking for herself in her early teens.  I think this is the coolest thing ever.  Most people would assume that Jessica Alba is one of the most genetically gifted women in the world.  She wasn't.  It's awesome to know that she defied her genetics - she built her movie star body on good food and smart workouts.
What that means to you is that if you want it a body like that, go out and get it.  Smart workouts: Squats, lunges, full body movements, short and intense cardio.  Smart eating: Lean proteins, low glycemic carbs, veggies, and little or no sugar. 
author of How To Lose The Stubborn Seven Pounds: Take Your Body from Good to Rockstar.
National Academy of Sports Medicine Certified Personal Trainer (NASM-CPT) and Performance Enhancement Specialist (NASM-PES)
Russian Kettlebell Challenge Certified Instructor (RKC) and Combat Applications Specialist (RKC/CAS)
© Joshua Hillis 2007